Last updated 12/06/08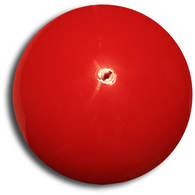 Sil-X are now available in 100mm size. Warning, If you're into 1 ball contact, reading this review will cost you Ten quid 😉
Last year, most of the Ministry got 78mm Sil-X because we like to test every ball we can get our hands on. Our verdict, make it bigger and it might be something magical for 1 ball contact Juggling.
The Ministry were involved in the development of this product, and we've wanted to rave about it for a little while now.
This is not a review of the production ball, but of the preproduction samples, that MoM helped to develop in November 2007.
Specs
Size: 100mm, (also available as 67mm & 78mm).
Surface: The same as the regular PLAY stage balls, slightly squishy and smooth. Grippy surface, but not a tacky feel like the 'Contact Ball'.
Weight: 100mm = 300gm (78mm = 150gm, 67mm = 110gm.)
Price: £10/€14 mark.
Bounce: Minimal.
8/10 for Isolationist contact
Has a plug, but the plug doesn't draw a lot of attention to itself. Seam is not invisible, but not easily noticed either. The surface is smooth and shiny, which really helps with that still illusion.
10/10 for Butterflies and Arm Rolls
The liquid gives the ball more stability and more weight, allowing you to feel the movement better. also helps you to slow down a lot of moves. when transferring, the liquid allows the ball to be caught in places with minimum control much easier and control gained quicker.
10/10 for Body Contact/rolling
The lower centre of gravity means the ball is so much more stable and sticks to the body a lot better. rolls feel smoother, slower and easier. Stopping and starting the roll feels slightly different to an unfilled ball, but not much. you'll get used to this quickly. The liquid also means that the weight is always distributed perfectly around the centre of gravity. Problems with the ball shell being thicker in certain places are made obsolete.
10/10 for Head and Feet
For foot catches, these balls make things a lot easier. The liquid centre helps the ball to stick to your foot as you catch it, but not as radically as a Russian ball or partly filled ball. There is still a bit of give, but hey, you want to learn to footcatch properly, right? For head balancing, the ball sits on your head nicely. I've been able to run up and down stairs, and jump quite comfortably and the ball just sits nicely in place. For headrolling, see body rolling. 🙂
10/10 for Throwing and Catching
These balls will make your throws cleaner (including kick ups etc). The liquid makes the ball feel as if it just falls into your hand effortlessly. Trap catches are great, as the ball has a bit of squish to make the catch comfortable.
N/A for Multiball Contact
The 100mm Sil-X is not for Multiball Contact, it's too big with a high friction surface. Similar to Contact Balls.
Positive:
Low centre of gravity, that moves freely as the ball rolls.
Extra weight helps you feel the ball better as it rolls.
Stable catches.
Good all rounder.
All the benefits of a grain filled stage ball, but with a lot more room for movement.
Negative:
Some balls have been reported to go off-round, slightly flat at the seams.
Makes some moves too easy!
Precise balancing (Two fingertip etc) made harder by the liquid always wanting to find a stable position.
Colour range consists of three colours, but at least they have a UV orange.
😉
Ministry Verdict: Highly recommended
You need one of these balls, it will save you a lot of learning time. They are very forgiving to the novice contact juggler. Highly beneficial when used for training alongside a 'contact ball'. yes we really did just score it 96% for 1 ball contact juggling.
In stock at At Oddballs, Juggling Store USA and Play Juggling
Ed and Drew
Footnote: There have been some reports of problems with leaking on some of the early production balls, we contacted play juggling who tell us they've got it under control and are sorting it out. We didn't have this problem on the preproduction samples, so I guess that it is solvable. We will update as we know.
We try to make all reviews as honest and accurate as we can, they represent our opinion, and your Milage may vary, feel free to agree/disagree with us or add extra details in the comments