You don't have to be bendy to use an RG ball!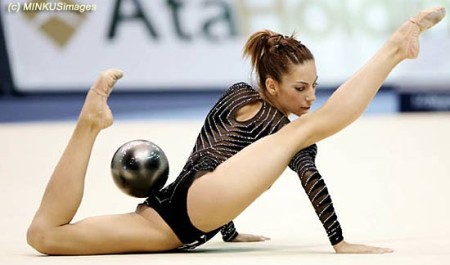 Summary: Every ball manipulator should have one. Essential for learning Chest rolls and Body rolls, and a great help for learning arm rolls too. Buy one today!
Ministry Labs have been doing extensive tests with RG balls recently, both adult and child sizes. The verdict – We love RG balls.
Size: 15 to 19cm (6″ to 7.5″) 15 cm is the child size 18-19cm is the Adult size RG ball
Weight: 280 – 420g
Hollow inflated balls with high friction surface rubbery, a good soft feel and a medium bounce.
Price: I pay £8 +Postage in the UK for basic balls (US$ 16). which do me fine, I've seen balls for US$80, but I'm not convinced that these balls are better for contact.
Positives: RG balls are perfect for body rolling. If you want to learn a chest roll or any other body rolling, get a Rhythmic Gymnastics ball. They're cheap, and they will save you days, weeks or even months of training time. The tacky surface helps to keep them on your body without sliding off, the bounce is perfect for a catch on the rebound when you drop (so you don't have to bend down), and the air inflation is ideal for trap catches.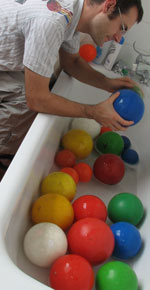 Child or adult size? Larger balls are easier for learning, if you're just getting one RG Ball, then an adult size ~18cm is a good choice. At the moment, we're using both large and small… all the time, further research required.
For performing bodyrolls, RG balls have bigger impact than a 4″. CJ audiences know that a 4″ is harder, the rest of the world know that bodyrolls are impossible with any ball.
A big factor in favour of RG balls is the foot catch! not on the top of the foot, but wedging between shin and top of foot which is far easier than the 4″ "top-of-foot" catch.
Negatives: An RG ball is not good in the hands. You can hold it in your palm but not a lot else, and its size will visually swamp your hands, so an RG ball is no good for much of classic contact or manipulation in your hands.
The Alternatives: Volleyballs, basketballs and half size basket balls. Which are available on the high street, but frankly RG balls are so much better, that if you want to bodyroll, you'd be wasting your time not to go RG.
Minstry RG Bodyrolls Montage
A new Ministry Video featuring RG balls is coming soon…..
Top Image credits: gymmedia.com/