"Everybody is master of himself".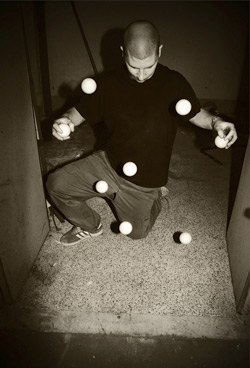 Italian juggler, bouncing and manipulation lover
Started juggling: 2004
Started contact juggling: 2005
Born: 1981
Always working on new projects and videos, Moon is an Italian juggler and video director. His roots comes from Internet: he started juggling in 2004, he chose contact juggling (2004) and bounce juggling (2005) as expression forms.
"acrylics will never leave me, silicone balls will ALWAYS leave me!" – moon.

After 3 years watching online videos, to give his contribute in 2006 he decided to create (with Shay Wapniaz) online videos Sigalit production, and the Imperfect Cirquel video project was born, later to be awarded "Best Online Video Award 2007" at BJC 2007 (voted on Rec.Juggling). His work aims to be sharing projects, ideas and experiences with world juggling community, exploring different ways to juggle and film juggling. Other great Sigalit productions are: Stepz, Alter Ego, Memo, Bounce upon a time, Small. Actually Sigalit is not working on new vids. M4u is in Spain and Moon is working so much..hope to make new videos soon!
He has run successful manipulation workshops in Italian conventions and in 2008 he has become manipulation and contact juggling teacher at "Scuola romana di Circo". In february 2008 and April 2009 he ran successful large numbers and multiball lessons in Ministry of Manipulation workshop in Katakomben, Berlin; in august 2008 he ran bouncing and contact juggling workshops at European Juggling Convention, in Germany, and in February 2009 he was guest teaching multiball in BurnCrew Convention 4, in Paris. In 2010 Moon has started to study new forms of manipulation (videoart, graphical manipulation, new circus). He performs in Galas and a lot of theaters and conventions all over Europe.
Actually he lives and works in Rome, Italy.
Some video from Moon:
Bounce upon a time
Sleepless
Isol8
Window
contact: moon[at]ministryofmanipulation.com
emanuelemarchione_2[at]hotmail.com