The essential guide to Multiball Contact, more than you ever dreamed that you wanted to know about Multiball Contact, with 3 to 11 balls… and then some.
16 Lessons of Instructions
16 lessons of contact with 1 to 4 balls, explain all the techniques you will ever need to master Multiball Contact. This course in contact is aimed to start with complete beginners, No prior experience of any form of manipulation is necessary, not even 1 Ball Contact. No palmspinning, no nothing.
The first 3 lessons are 1 ball holding and rolling technique, as a primer for lesson 4: 2 balls in 1 hand palmspinning.
Each lesson uses a few simple moves to help you develop and refine a particular piece of Contact technique, hence even highly experienced manipulators will gain a great deal by studying these lessons.
How to form this 8 Ball Cube is explained in the
8 Ball Inspiration Section
14 Chapters of Inspirational Moves
Inspirational chapters reveal the secrets of the best of multi-ball: With chapters focusing on 3 balls, 4 balls, 2 chapters of Snakes, 5 balls, 6 balls, 7 ball and 8 balls, but unlike most contact, this guide doesn't stop there. Four more inspirational chapters will take you on to 9 balls, 10 balls and 11 ball and finally, there's one last chapter for people who like to play with small balls.
Enough to keep anyone busy for years! There isn't a Multiball manipulator on the planet who wouldn't gain a great deal from reading this book.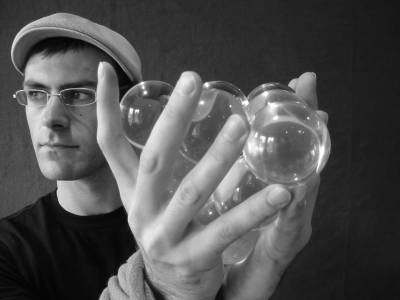 10 ball 3 layer pyramid
More info:
Multiball Contact FAQ