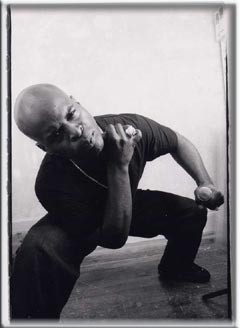 Another departure from new circus on the MoM blog, beatboxing is one of those 'fringe' elements of vocal performance that is establishing a place in the performing arts scene. Kenny Muhammad was the man responsible for introducing me to this discipline through his '30 Seconds to Fame' appearance and these two old audio clips of him have been viral on the beatboxing forums for years.
Drum n' Bass beatboxing clip: kenny-dnb.mp3
From Wikipedia:
The Four Elements
The last track on Rahzel's CD 'Make The Music 2000' is a track with his famous 'If Your Mother Only Knew' routine. But it contains a hidden bonus track, which is a 'Man vs. Machine' battle with beatboxers Rahzel and Kenny Muhammad vs. turntablists DJ Skribble and DJ Slinky. The song is by most beatboxers referred to as The Four Elements, because it contains
an impression of the four elements in beatbox style at the end.
* The second element is Wind (performed by Kenny Muhammad), a complex and fast beat with words in it said in a very low voice. It has a stormy character. Wind is probably the current most favourite beatbox routine. It is a cover of the song
'Nummern' (Numbers) by the German group Kraftwerk.

MP3 Link – kenny-wind.mp3
Humanbeatbox.com (previously beatboxing.co.uk) has a brilliant history and beginner tutorial for wind technique here; so now you can spend the next week walking down the city streets whispering demonically to yourself. 🙂