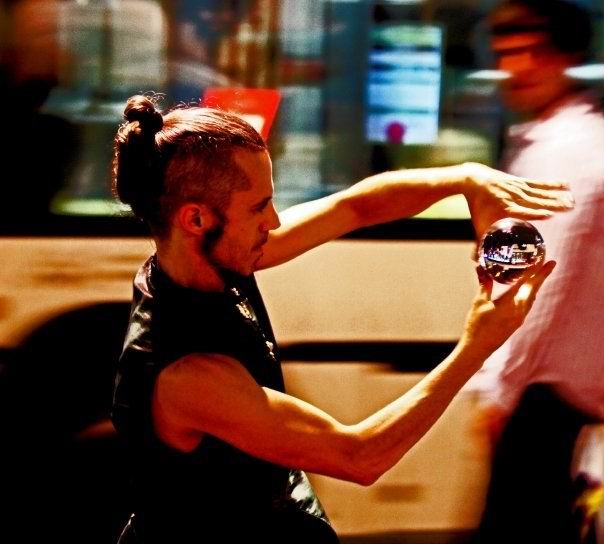 I remember when a short clip of german street performing at La Rambla was first posted on www.contactjuggling.org. Everyone on the forums watched in awe of his super-tight isolations, moving the isolated ball floating along a path before connecting it to his butterflies and bodyrolls. The result was long,  flowing lines of movement and a sustained illusion and tempo that was unmatched by other contemporary contact jugglers.
Interview and new Xotico video after the jump
http://youtube.com/watch?v=J4c10rwIbgg
Interview with German (aka Xotico)
MoM: Where do you live?

Xotico: I live half of the year in Buenos Aires (Argentina) and the other half in Barcelona (Spain).

MoM: Is there a community of contact jugglers where you are?

Xotico: It is not really a community of contact jugglers but rather a group of juggler friends who train together at Plaza Francia in Buenos Aires and Parc de la Ciutadella in Barcelona.

MoM: How would you describe contact juggling?

Xotico: For me contact juggling is a game which enables me to have a lot of fun, be it together with friends or on my own. Then, I live contact juggling as a form of active meditation, a moment when I manage to switch off my mind, giving way to an expression free of the noise of my thoughts.

MoM: Why do you contact juggle?

Xotico: Because I feel I connect with myself, with the people and the cosmos, as it were. Just as with any other artistic search, I think it helps us discover ourselves.

MoM: What is the best piece of contact juggling that you've ever seen?

Xotico: I discovered contact juggling through Michael Moschen and his film "Labyrinth". It was thanks to him that, years later, I started to juggle. Of all those I have seen so far, "Conceptual piece" is one of my favourite performances. I also liked "Noosphere" by Jeannine and Mr Om, as well as "Nirvadhi" and "Metamorphose" by Mr Om.

MoM: What is the future of contact juggling?

Xotico: I enjoy seeing how contact juggling fuses with contemporary dance. In my case, however, I am more influenced by martial arts than by dance but I think the future lies in the fusion of disciplines and that it will depend on our own search and personal exploration. Of course, it will also depend on the input received by those who start juggling nowadays and, definitely, I foresee a future with lots of contact jugglers and lots of different juggling styles.

MoM: What do you think of when you are contact juggling?

Xotico: Precisely, I do not think of nothing in particular or, more precisely, nothing at all. The moments I most enjoy are those when I have nothing in mind, when I do not think of anything, neither the next trick of my performance nor the audience or the lighting. Everything just flows and the performance comes alive. Moments when both the audience and I share the same trip.

MoM: Anything else you would like to say to our MoM audience?

Xotico: At least in my experience, having fun, juggling and training are fundamental to the search for one's own expression and represent the basis for both artistic and personal growth. Have fun, juggle and train
Check the  German Video thread on contactjuggling.org, where you can find many video clips of his street performances.