Today's first link is Francis Brunn pictures and obituary thanks to Dick Franco (another juggling legend).
Dick Franco writes: "Francis was a warm man with a great sense of humor. We spent many hours together in Italy, practicing, talking and, of course, drinking beer."
(note: Dick Franco's site has very good words and pictures and is worth a look, but the coding is a bit shakey, I get overset text in both Firefox and IE, if you want to read it without any text overlaying go to view>page style>no style).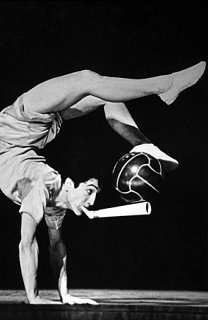 Today's second link was a very pleasent surprise, an incredible collection of photographs of Brunn from Olivier Blaise on picturetank, including the 2 in this post.
He's a photojournalist. Although. I can't believe he took all the photos, some of them are a bit too old. Merde, I say, I wish I'd paid more attention to French lessons in School, then I'd be able to understand.
There's a photo of Francis Brunn with Muhammed Ali, "I am the greatest", a famous quote of Ali could have applied just as well to Brunn.
While you are there its worth a look at the rest of Olivier Blaise's photos inclucing Tom Noddy (Bubble), Kris Kremo, Kosen Kagami Japanese Juggler, general Juggling and the MicroDrones are fun too.
Anyone got any other photos or videos of Brunn.
More to come in Brunn week.
Smiles
Drew