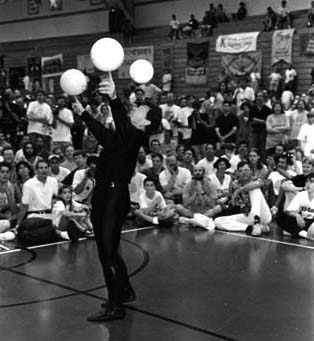 If theres a gene for Juggling, its strong in the Brunn family. From Big Sky Film Festival:
Dance of Sisyphus
86 minutes, 2003 Super 16mm, Germany
By Bert Schmidt
"Ernest Montego, born Ernst Kuhn in Aschaffenburg, Germany in 1936, has been a juggler for over 50 years…. As a twelve year old, he went to the cinema and saw the duo Francis and Lottie Brunn in the Bavaria film "Tonelli" – and decided that juggling would be his future. What he didn't realize at the time was that his choice of career was actually influenced by his own half-brother and -sister, an internationally famous juggling team who had made a name for themselves in the USA with the greatest circus in the world: "Ringling Brothers Barnum & Bailey". A quarter of a century after that decisive visit to the cinema, Ernest Montego, now a master juggler himself, finally met his half-brother and in Las Vegas…."
Has anyone seen this documetary, or know where we can get a copy? Link to strandfilm the film producers site in German > scroll down to 2003.
Montego (pictured above) performed in a similiar way to Brunn – high skill, big balls and mouth sticks. I can only find one video of Montego online, here are 2 links to the same video – that sword opening is fantastic: ErnestMontego.mov ErnestMontego.mov
Ernest Montego is listed for 10 rings in 1957. his act finish you will see on the .mov above, is basically the Brunn finish… on a unicycle!
Another link to a vhs, scroll down to Hollywood Pallace Volume 1 ita a video vhs of a brunn performance from 1964 availiable to buy on VHS in the states for $14. Has anyone seen this and can give us a review?
Smiles
Drew