Note sure about the legitimacy of this (too much good stuff!!!), but here's a 40Min EJC vid from Metlilimout with clips from many of the shows (Renegade, Open stage and Mainstage) featuring some beautiful manipulation and juggling from… well… just about everybody!
Google Video – To watch Fullscreen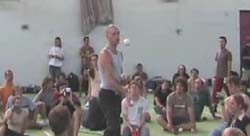 It seems negative space is pretty "in" these days (thank you Stephan Sing!) as you can see it in use with clubs, balls and cigar boxes.
We've been waiting ages for some EJC vids to show up (there were tonnes of cameras there.. so we knew it was inevitable) but for the longest time our EJC video and Colin's EJC video were the only things out there (both focused on contact.. we assumed all the normal jugglers just gave up) But no! Apparently you've just been working hard on these things…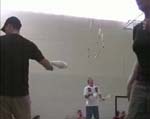 VIDEO HIGHLIGHTS
Jay Gilligan & Manu (featuring clips from his Duet: Snakewater)
[5:00] [13:55][29:35]
Pascal (Hip-Hop Hats act)
[4:08]
Bruno (contact juggling)
[12:43][20:56]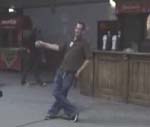 Matt Hennem (contact and bodypopping)
[9:10]
Stephan Sing [lots of footage from his UNBELIEVABLE Openstage Act]
[15:35] [16:15] [ 17:05] [18:53]
[21:45][22:44][29.03][30:04][36:18]
Volleyclub (a great volley!)
[27:30]


Chris (contact juggling)
[16:30]
The Rizzla trick
[31:30]

And even the bodypopping/silhouette dance routine from the Open Stage, made it in there! I found the silhouette dance wasn't to my taste, but I've seen 2 lots of video footage of it since that both looked fantastic. A rare example of something looking better on screen than IRL. [26.09].
So grab yourself a cup of tea and take 40 minutes off.. this is a good one.
Download Link 175mb Mp4 [Plays with Quicktime, VideoIpod, Sony PSP] [UNTESTED]