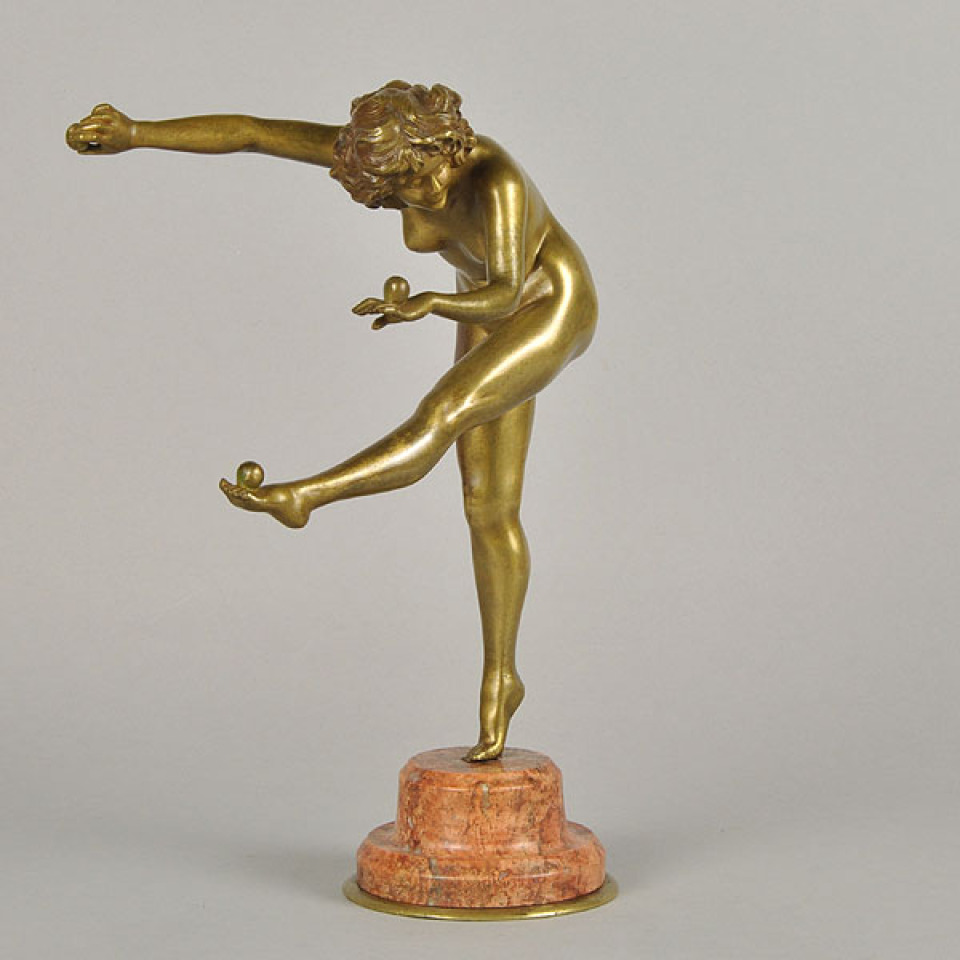 The sword in the stone post from last month created quite a stir, it seems like there is interest in the history of contact juggling. A good time to post about Colinet – the statue above is from around 1930, it depicts a woman dancing with 3 balls, one held in her hand, one on the back of her hand in a cradle and one held on her foot.
The title of the sculpture is: Joueuse de Boule. It's usually translated into English as "The Juggler" (ref: Bryan Catley – Art Deco and Other Figures"). We asked Jeanine for a better translation, she writes:
…Joueuse de boule means roughly "feminine ball player".
The suffix -euse expresses the feminine ("joueur" would be for a man); "la boule" is almost a ball, often heavier or bigger or more precious. Let's say sphere 😉
And you have the proposition "de" that connects the noun and the "object".
So…. joueuse de boule means as much as (feminine) Sphereplayer 😉
The sculpture was Claire Jeanne Roberte Colinet (apx 1880-1950): Born in Brussels, she lived and worked in Paris, creating many beautiful and dynamic art deco sculptures often depicting dancers.
MoM has one of these sculpture – it's beautiful, With art deco sculptures, as a rule, if you can think about affording it, it's a modern "reproduction" (better known as FAKE! There's usually a few on ebay of varying quality). A small (17cm) genuine version of this sculpture was offered to me for £900GBP! Ouch, and it took me a while to say no. I'd guess that ours is a good quality, and quite old, "unauthorised copy".
Joueuse de Boule is not the only art deco sculpture that MoM research has uncovered which depicts contact juggling, there even one that is definitely body rolling… more to follow.
Above picture is from Hickman Fine arts, who've got one for sale, and have a 360 photo view of the sculpture. here's another that sold at Christies a few years ago.
Finally … one of Colinets, other sculptures was called: "Les reves sont des bulles da savon" (Dreams are Soap Bubbles). I think she knew how contact juggler think.