Craftparts.com
Wooden balls 3″ = .75 4″=.90 and 5″=.90. Discounts for purchasing more than 10.
Ikea!
"Joddla" Wooden balls.
70mm painted white balls with floral pattern 99p (instore price, reduced from £1.99). and they're great for learning palmspinning -slightly lighter than acrylic with slightly higher friction, Combine these with a copy of Multiball Contact, and you've got a beginners Multiball kit and change from a £20 note. Unbelievable.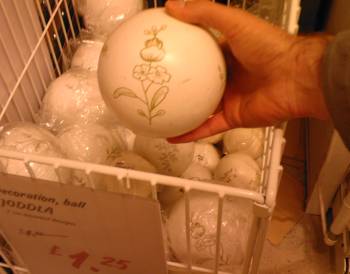 Ikea Again
10cm Joddla wooden balls £1.59. Instore price. left.
13cm Joddla £1.99. Lovely for bodyrolling. I have the painted black ball, with a floral pattern carved into it.
Ikea also supply, ball bags, boxes and ball stands – if you look carefully! For the manipulator who needs to accessories with style.
Know any other special offers for CJ? Add links below, to spread them to the masses.