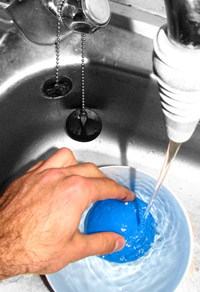 Ministry Research Labs
In our never ending quest to find the best equipment. We made and tested another ball.
The experiment: Will putting water inside balls help for juggling or contact?
The quick answer: No. This ball sucked and sucked hard.
Experiment #1 – Ball partly filled with water: Forget it, what you get is the slosh factor. The ball wobbles when it rolls or flies, water sloshing around inside. Failed.
Experiment #2 – Ball completely filled with water: Quick answer – it's no good.
Long answer: Here the difference is more subtle. To throw and catch it is very similar to a solid ball, good weight for contact. It can be arm rolled and butterflied, but its much harder than a regular ball. the significant difference is that while the ball has linear inertia, it has almost zero effective rotational inertia. What this means for a contact juggler: when you roll it down your arm, it's far more difficult to control, it has less stability. It's a bit like having a very slippery ball, and slippery tights covering your arms. A solid ball must both rotate sideways and translate sideways in order to fall of your arm, a water filled ball has only to translate sideways, the water inside does not need to rotate. no rotation requires less energy, and so in feeling the ball is more skittish. It can be arm rolled and butterflied, but its much harder than a regular ball.
Conclusion: Don't fill your balls with water, it won't help. It reduces rotational inertia and so reduces stability. and what we need for hand rolling, arm rolling and body rolling is a bit more stability/ Coming soon, balls that are better not worse!