«Previous: History

Michael Moschen is an artist of manipulation and juggling, who performs with a wide range of objects to create spectacles of intense beauty.
Moschen played a key role in developing modern Ball Contact with his routine "Light" in 1985. It is still available to buy on video (Great performances, In Motion: with Michael Moschen, 1991).
After two decades, Light has stood the test of time well. It is a beautiful and mesmerising routine – recommended viewing for all manipulators. With Light, Moschen was the first to use transparent "crystal" balls, to create a performance which combined the existing techniques of 1 ball body rolling, palm rolling, palmspinning, ball manipulation and balance. An art form which would later be called "Contact".
Moschen developed much of the material in Light. He appears to work in his manipulation not with "moves", but at a higher level, with pure techniques and concepts of movement.
The following are accredited to Moschen:
Palm Circle Isolations
Snakes and trains
7 ball "Moschen Transfers"
Isolating 1 ball through 4 ball pyramid manipulations e.g. isolated thumb-lifts
The Butterfly – However half butterflies, the cradle hold and head rolls [a butterfly on the head] existed previously.
Each of these is a fundamental concept, representing not just one move but a whole family of moves.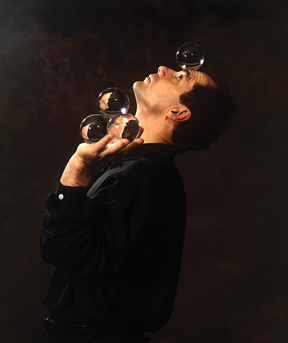 The movie 'The Labyrinth', released in 1986 was where Crystal Ball Manipulation became famous. Jareth – The Goblin King, played by David Bowie manifests a bubble from thin air, and performed a few butterflies with it. Later he spun a pyramid of 4 balls. It wasn't Bowie who was manipulating the balls, but Moschen standing behind him. The creators of the movie used Moschen in the film because, "It was the closest thing to 'real magic'" that they had ever seen. There was very little Contact in the film, but the magical effect created with the balls was etched deeply in people's memories.
Pandora's box had been opened. After watching Labyrinth, the public were fascinated, thousands wanted to learn to manipulate balls and they wanted a name for this new thing…